The Eremo San Valentino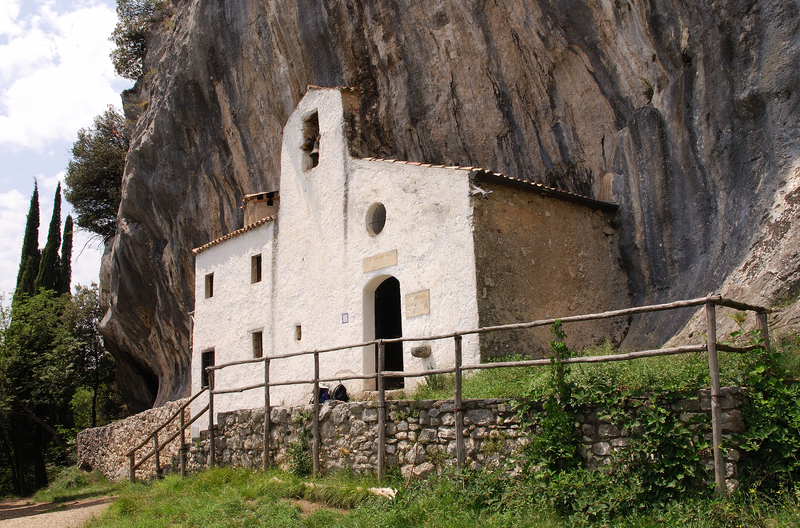 Along the path 31 we will reach the "Eremo San Valentino" (hermitage San Valentino), in the hamlet of Sasso in Gargnano at lake Garda. It will be a pleasant walk suitable for the whole family, enjoying the peace and clean air, seeing unique landscapes that the high Garda offers. The drive from Sasso hermitage is about 3 kilometers and lasts about 70 minutes, you will meet along the way to the principle flat terrain and easy to cross and then into the woods. Subsequently, for about 500 meters the stretch is characterized by the steepest paths is downhill, uphill that allow the ascent of the mountain and finally the last segment may be more difficult for the presence of rocky bottom. But you cross a small door and you can contemplate the enchanting scenery: the gentle lines of the lower lake, the grandeur of Monte Baldo, the silhouette of the small town of Gargnano relaxing gently on the shore, and the church of San Valentino.

According to the legend, the church was built as an act of devotion by the survivors of the plague, which in the 17th century decimated the population of the coast, forcing the majority of citizens to take refuge in the mountains. The structure was built between plumb rocks at Lake Garda, giving a unique atmosphere. Also it is said that in 1842 Geremia Palladini, perhaps to refuse military service, he found shelter within the walls of the church and remained there in seclusion until his death. During the life of Geremia it was called by the citizens of Sasso "el Romet de San Valent" That is why after the death of the hermitage, the church was named "Church of St. Valentine."
​
Today the small sacred site, restored in 1970, excels dyed white between brown rocks at a height of 700 meters that arouses great curiosity for many travelers, attracted by the naturalistic and historical peculiarities. It's a great place to enjoy a peaceful stay by yourself or with friends. The small chapel, with poor decoration except a portrait of the hermitage, is a perfect nest to meditate, pray and cheer enjoying the silence and simplicity of this place. Also next to the chapel there is a tiny sacristy and a pantry external environment and you can instead visit the space where was collected rainwater and that of a natural spring. Upstairs is located the room small and humble bed in furniture, where once the hermitage Geremia rested, and from which the view of Lake Garda is just lovely.