The casoncelli of Brescia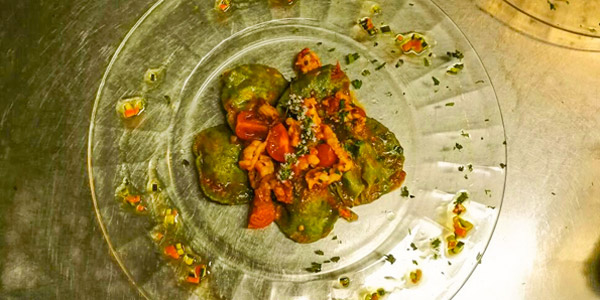 The Casoncelli are a dish s part of Lombardy culinary tradition, the creation of which is disputed between Bergamo and Brescia. Thier origins are ancient, we have testimonies that come directly from the Renaissance and of course originates in the popular cuisine made with recovery of the remains: a stuffed egg pasta, with a light sweet and sour taste, whose filling was composed originally by "Spadone" pears , candied fruits, chopped almonds mixed with eggs and butter. A sweet base that has become spicy (cinnamon and nutmeg) over time and then arrives at the modern times to look like the filling of normal meat ravioli, with the addition of potatoes, herbs and leek The pasta has instead always been a normal egg pasta from the beginning. And it always has been the same typical half-moon shape.

The difference between the two cities Brescia and Bergamo is in the filling. Let's see what is the typical recipe from Brescia tradition.

The doses for the preparation of the pasta:
500 g flour;
4 eggs and a yolk;
a bit of salt;
water as needed.
The doses for making the filling:
300 g of red meat;
an onion;
a glass of red wine;
two glasses of vegetable stock (made with celery and carrots);
3 cloves;
a pinch of cinnamon;
nutmeg you like;
50 g grated Parmesan cheese;
50 g bread crumbs;
an egg;
salt and pepper as needed;
extra virgin olive oil as needed.
The doses for the preparation of the filling:
a few leaves of sage;
butter as needed;
grated Parmesan cheese.
Preparation
The sheet of pasta
To start let's prepare the pasta for casoncelli. Mix the flour, eggs, salt and water needed to finally get a smooth and homogeneous mixture. If you use the pasta machine, you will get thin sheets.

The stuffing
Brown the chopped onion in a hot pan with a little oil for a few minutes. Careful not to burn. Add the meat making it brown on each side. Later add the wine and broth previously prepared with carrots and celery, finally the spices. Adjust with salt and pepper and continue cooking over low heat for a couple of hours. Let the mixture cool and purée in a mixer adding the egg, Parmesan and breadcrumbs. If the stuffing should be dry, add a bit of olive oil. Finally if it needs, adjust with salt and pepper.
Create Casoncelli
Make stuffing balls, place them on one side of the pastry and cover with the other side. Close all the spaces closest to the filling and cut the small half-moon shapes. Let casoncelli dry for a bit of time on a floured counter.
Cooking and seasoning
Cook them in salted water for about ten minutes and drain. Meanwhile, melt the butter in part together with the sage. Finally drain cooked casoncelli, toss with melted butter and sage and add the grated Parmesan.