Grotte di Catullo, Sirmione - The important Roman villa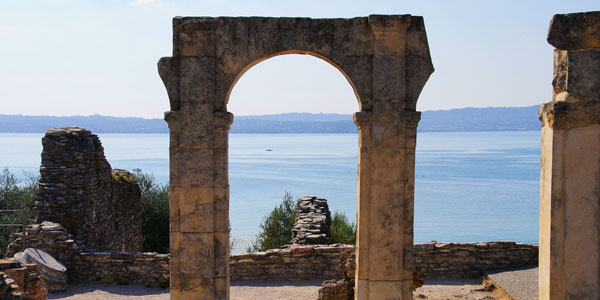 In the enchanting Sirmione there is the archaeological area of ​​the Grotte di Catullo which preserves the remains of one of the major residential villas of Northern Italy. They are so called to indicate the collapsed rooms, covered by vegetation, within which it was possible to enter as in natural cavities; while the reference to Catullus derives from the verses of the Latin poet who sings Sirmione as a jewel among all the islands and peninsulas of the seas and lakes.
The villa was built in the Augustan age and it was abandoned during the 3rd century AD.Between the fourth and fifth centuries the imposing surviving structures of the villa were included in the fortifications that enclosed Sirmione and, inside the remains of the Roman building, burials were made.The construction was carried out thanks to a unitary project, which defined the distribution of the spaces according to a principle of symmetry.

In 1999 inside the park was inaugurated the Museum which houses many finds from the excavations of the Roman villa of the "Grotte di Catullo", from other Roman villas located on Lake Garda (Villa in via Antiche Mura in Sirmione and Villa in Toscolano) and other archaeological sites in the area.
The archaeological remains of the villa are surrounded by about 1500 olive trees of the varieties grown on Lake Garda (Casaliva, Gargnà, Leccino). In recent years the olive grove has returned to producing olives from which a high quality extra virgin olive oil extract is derived.
The reservation is not mandatory and on the website there are all the information about the ticket costs.