Flyboard: fun, adrenalin and emotions without limits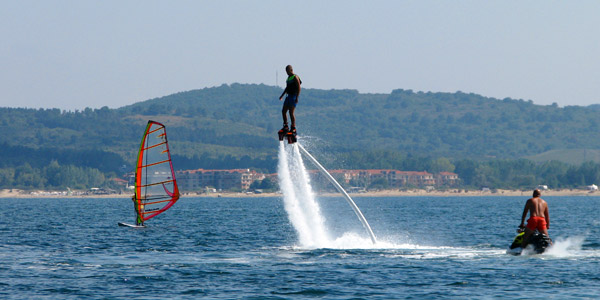 A new, exciting and different sport to try on the water is the Flyboard. It 's the perfect mix of snowboarding, water skiing and tradiotonal skiing. The Flyboard consists of a special machine (a board for the feet attached to special boots which receive the thrust upwards thanks to the water pressure) driven by a jet-ski. Through this experience you can move up to nine meters above the water.
It's hard to describe the experience on the water thanks to Flyboard. The Flyboarder can control its movement through the foot tilt and the balance can be ensured to a dizzying height. The most advanced level is to perform acrobatic moves over the water. Through this experience you can feel like a superhero and try unique sensations in an idyllic place.
You can enjoy this experience even sports on Lake Garda, thanks to some sports schools. The equipment is supplied (life jackets, helmets and wetsuits) by the operators.
​To do it!