Art and history in Riva del Garda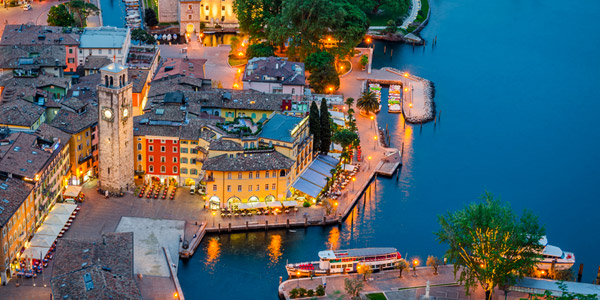 It is immediately clear: there is much to discover in Riva del Garda. The beautiful houses and the romantic position on the lake offer an idea of ​​the history and art of Riva del Garda. Many famous guests have already succumbed to the charm of this historic place, including the Mann brothers, Nietzsche and Kafka. No wonder the place is one of the most popular destinations on Lake Garda.

​Riva del Garda has a turbulent and varied history. Archaeological finds suggest that people settled on the shores of Lake Garda in prehistoric times. But it was the Romans who gave the name to the place "Ripa".
After the dissolution of the Roman Empire, Riva del Garda repeatedly fell into the hands of the various rulers, who alternately claimed the regions south of the Alps. So Riva del Garda was once part of the Frankish kingdom, so it was part of Lombardy. Later it passed under the dominion of the Holy Roman Empire of the German nation. Verona and Venice also discussed the small city and their influence can still be seen in architecture today. Later, Riva del Garda fell into the empire of Austria-Hungary and the fortifications around the city still bear witness to the incident. After the First World War, the place was sold to Italy.

Visitors to the city can find a wealth of attractions and rich artistic treasures. Definitely worth visiting the Rocca fortress in the middle of the old city, which is surrounded by a moat. Here is where the Museo Alto Garda is hosted - shortly MAG. The excellent collection includes historical and cultural assets of the northern region of Lake Garda. These include artefacts from the Copper Age and important masterpieces by regional artists such as Vincenzo Vela, Pietro Ricchi and Giuseppe Canella.

Another fascinating sight is the Torre Apponale, a medieval town tower in Piazza 3 Novembre, which was part of the city's fortifications. It is 34 meters high and its peak can be reached by visitors to enjoy the magnificent view of the city and the port.

From the time of Scaligerfamily the Palazzo Pretorio arrives, which can also be visited by visitors. Here there are tombstones from the Roman era and later periods. Many other discoveries await the visitor in the cobblestone streets of Riva del Garda.

Best of all, you can easily drift in the tight tangle of narrow streets and medieval houses and enjoy the atmosphere of this unique city.